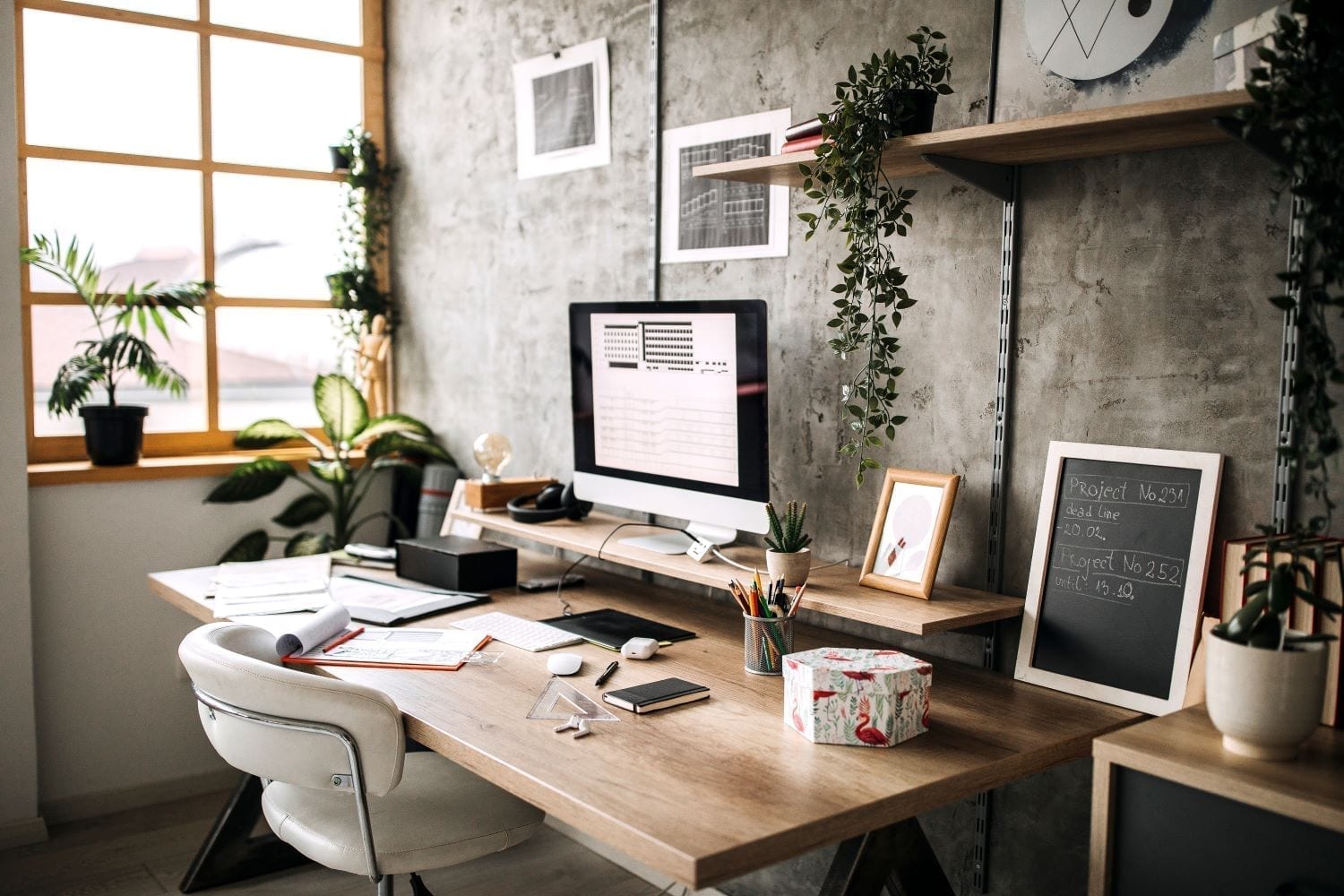 Working from home is becoming a popular option with many people. Whether you telecommute or have abandoned the rat race in favour of setting up your own home business, a home office has become an essential space in many homes.
Not everyone has a big budget for outfitting a home office and few people can pay to have a professional space planner come into their home to design an efficient home office space. There are lots of ways to create a good space for working at home without spending a fortune. Here are a few inexpensive ideas to help you set up your home office.

1. Define your work needs
List all of the equipment you'll need in your workspace: a desktop computer, a desk, a chair, a printer, a phone, a filing cabinet, etc. Brainstorm with an eye toward the future so that your office space will be able to meet your needs today and in the future. Highlight the essentials, but list the future desires, too. Knowing what you need today and what you would like to incorporate into your space in the future is half the battle!
2. Find a suitable space
The key to a good home office is to make use of whatever space you have providing it can accommodate the items you identified in step 1. Whether you set up a corner office in your kitchen, designate a guest room to double as your office, or set up a location in your basement, it's crucial that your home office include all the elements that contribute to your productivity, efficiency, and overall success.

3. Select a suitable desk and accessories
The accessories you need for your home office will depend on the type of work you do and your work habits. Your desk accessories stare you in the face every time you sit down to work, so choose them carefully.
Try to use items you already have. If there's a small unused table that could double as a desk, use it. You've probably got a comfortable chair in your dining room that could work fine as an office chair. Look around your home for some useable pieces that can be brought together successfully to create a comfortable and relaxing home office environment.
Think of other ways you can use inexpensive materials to create shelves, filing systems, and in-and-out boxes. Use a decorative flower pot to hold pencils and scissors.
For bargains, check out yard sales, thrift shops, and bulletin boards. Trade with others to spice things up a bit. If you want brand-new items, watch for special deals. Many stores offer significant discounts during the back-to-school shopping season and you can stock up on office supplies for relatively little money.
Your home office space is probably not going to be too big, so consider painting the walls yourself. Adding a fresh, lively colour or a sedate, calming colour will set the tone for your workspace.
A home office does not require fancy built-in desks and walls of custom shelving. With strategic planning and a little imagination, you can put together a stylish, functional workplace on a dime.